4.8.24 is here
DuoSTATION® MDM v4.8.24 contains new features, optimizations and bug fixes. Here are the most important changes.
Android
Auto update policy
Now it's possible to control how apps may be updated on Android devices that are connected to Managed Google Play (MGP).
Select devices in Devices and use Actions>Google Play>Set auto update policy for selected devices …: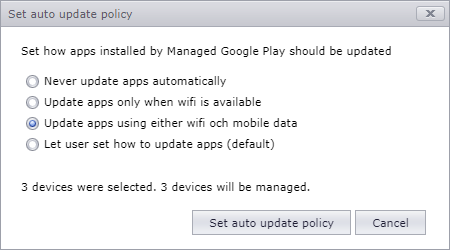 It's also possible to set an default auto update policy for devices connecting to MGP. This is managed in Settings>Google EMM Integration>markera enterprise>Edit enterprise…: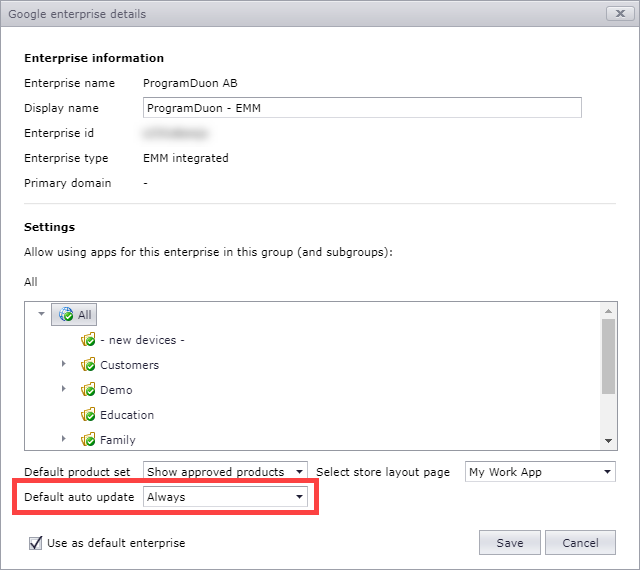 We have added the column Play updates in Devices that shows which policy each Android device uses. This policy is also shown in the Android tab in Device details.
Product set
The column Play apps has been added in Devices to show which apps are available in the Play-app on each Android device connected to MGP. This policy is also shown in the Android tab in Device details.
Google Play Protect
Now it's possible to force Google Play Protect to be activated by a new restriction: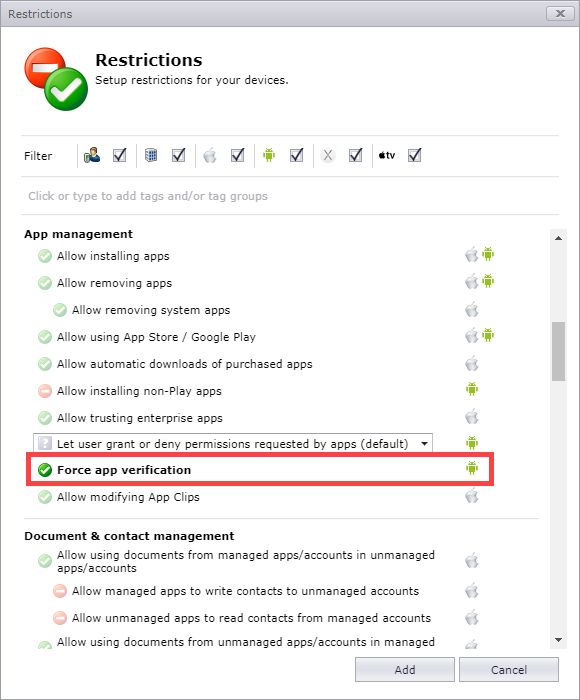 A smarter way to deploy apps
Many of our customers mobile environment contains both older Android devices that cannot use MGP and newer Android devices connected to MGP. That makes it more complex to administrate app deployment with App installation configurations.
We have solved this by adding an extra optional setting in the App installation configuration: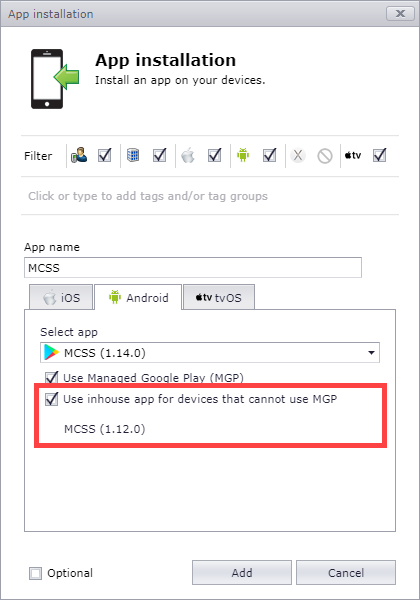 By checking Use inhouse app for device that cannot use MGP the system uses MGP to deploy apps on devices that can use MGP and if the devices cannot use MGP, the corresponing inhouse app will be installed.
To make it possible to check this optional setting, the app must be uploaded as an inhouse app in Apps.
Direct Boot Mode
Devices with Android 7+ enters direct boot mode when the device has been powered on and the device hasn't been unlocked by the user. We have now improved the support for managing the device in direct boot mode.
Blocking web pages
Some customers have reported that blocking of web sites using Web filter configurations has stopped working. This applies for the apps Chrome, Edge and Samsung's pre-installed web browser and has been reported by us to Samsung. Samsung have not provided an acceptable solution yet.
For the apps Chrome and Edge it's possible to block sites by using an App settings configuration for each app: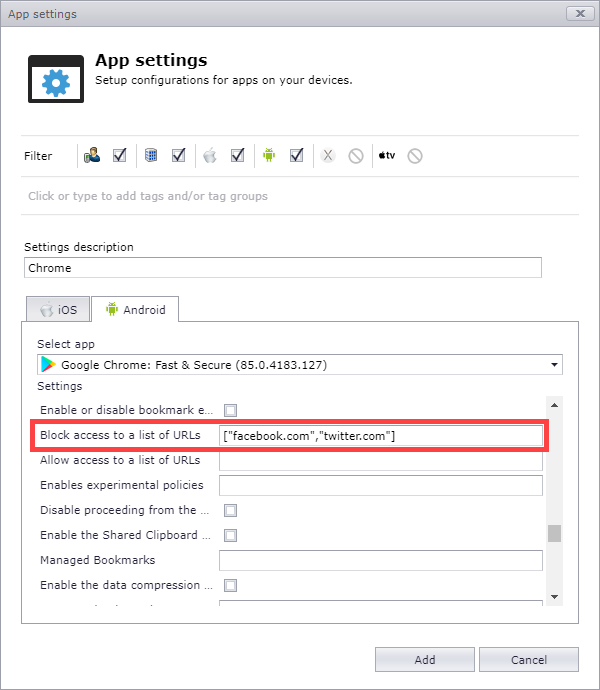 Android 10
For Android devices that are NOT managed in Android Enterprise (device owner) more and more settings and features managed by the MDM-system will stop working for each new version of Android that Google releases. Google calls this device admin deprecation and here's more info:
https://developers.google.com/android/work/device-admin-deprecation
Therefor it's important that Android devices are enrolled properly to the system:
By Knox Mobile Enrollment for Samsung devices and using a MDM-profile based on Android Enterprise (earlier called Device Owner).
By Zero Touch Enrollment for devices manufactured by other company than Samsung.
Manually by entering afw#duostation as Google account on out-of-the-box devices or on devices after a factory reset.

Contact us if your are unsure about this or need our help.
---
iOS & iPadOS
New restriction for App Clips
We have added a new restriction to deny/allow users to manage App Clips which is a new feature in iOS/iPadOS 14: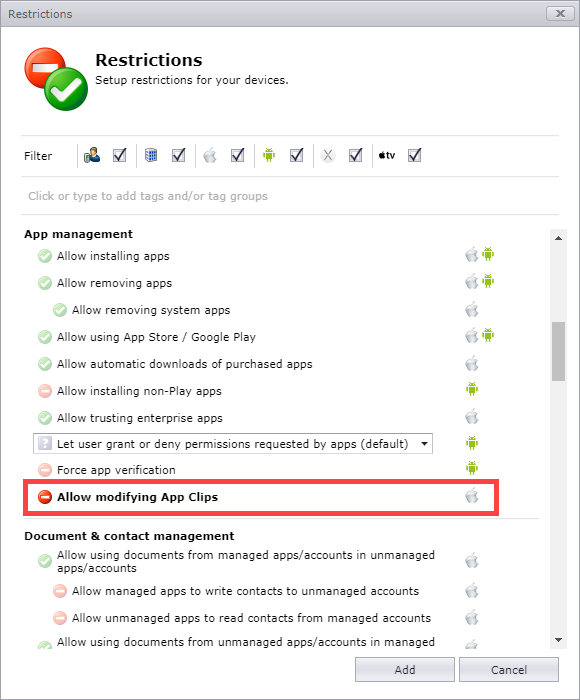 Optional apps
We have made it possible to search in the list of apps which makes it easier to find the app to install or uninstall.
Improved handling of apps that have been installed from Appstore by the user. Now the user can choose to let the MDM-system control the handling of the app.
---
Active Directory
When synching data from Active Directory we now include the date and time when the data was imported from Active Directory.
This timestamp can be shown in the new column DS sync date in Users and in User details.