Android 10
Here's important information regarding privacy changes in Android 10.

Changes in Android 10 that has impact in MDM
In Android 10 Google has focused on privacy for the user.
For instance has the possibility to read information like:
Device serial number
Device IMEI
SIM serial number
Phone number
MAC addresses
been removed for apps that aren't 'device owner'.
This means that this information will not appear in MDM for devices running Android 10 if they aren't enrolled in the right way.
For Samsung-devices that aren't device owners this still work (except IMEI), but might stop working in upcoming versions of Android.
Enroll Android 10 devices in the right way
The right way to enroll Android 10 devices is to use:
Samsung Knox Mobile Enrollment where the MDM-profile is 'Device owner'
Zero Touch Enrollment
Manual enrollment using afw#duostation
All techniques in the list above forces the device to download our MDM-app and activates the app as device owner, and then there are no problem to read the values mentioned in the top of this mail.
Contact us if you need help to use these services/features.
Preventing devices to update to Android 10
If you have many devices that aren't enrolled the ways described above, it may be important to prevent these devices to update to Android 10.
This can be handled by preventing system updates in a 'Restrictions'-configuration: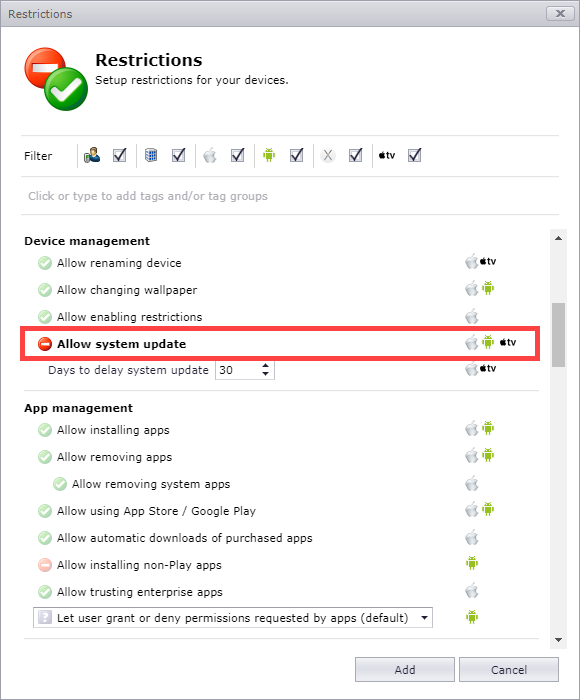 More information
Read more about the privacy changes in Android 10:
https://developer.android.com/about/versions/10/privacy
We are searching for solutions to make the migration to Android 10 as smooth as possible.
If you have any question about this – please feel free to contact us.